Advocacy for Over 50s - Older Citizens Advocacy York
| | |
| --- | --- |
| When is the service available? | Monday - Friday, 10am - 3pm |
| How much will it cost? | Free |
Description
OCAY is a small local charity. We work to help people over the age of 50 in the City of York by providing a free, confidential and independent advocacy service. We support people with benefits, pensions, housing and consumer issues, amongst other things.
OCAY Advocates can help by:
Finding information, including helpful contacts.
Telling people about their rights and making sure they are respected.
Attending meetings and appointments with people.
Helping to write letters and fill in forms.
Supporting people to challenge decisions they do not agree with.
Help with making complaints.
Supporting people in accessing the services they need.
No issue is too small for us to work with if it affects someone's life and they need support.
If you would like our support, you can call 01904 676200 to make an appointment. 
Visit our website for more information.
Last updated: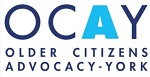 https://twitter.com/OcayYork
Suggest changes